Welcome to AIGS!
For over a quarter of a century the Amelia Island Genealogical Society (AIGS) has been proud to serve both those seeking information about Amelia Island ancestors and those without local ties wishing to connect with other genealogists.
Members can start registering for 2022 Special interest Groups. To view what is available, please click on the button below.
Our Genealogical Library
Search Our Website
Latest Genealogy
Genealogy Data
These obituaries and estate sale notices were transcribed from the Florida Mirror issues for 30 Nov 1878, 7 Dec 1878, 28 Dec 1878, 4 Jan 1879, 1 Feb 1879, and 21 Jan 1880. The names of those deceased: Judge John Friend, John C. Griswold, Dr. F. P. Wellford, Rev. Archibald Baker, Mrs. Harriet Willis, Liberty Billings, and Charles L. Hoyt.
The Amelia Island Genealogical Society has published the Nassau County Genealogist continuously since 1994. A print only publication, indexed in PERSI, The Nassau County Genealogist features stories and history of Nassau County, Florida, and its people. It also provides genealogical records which pertain to Nassau County, Florida. Jean Mann has served as the sole editor since the quarterly was first published! Our quarterly is published in January (Winter), April (Spring), July (Summer), and October (Fall). There have been occasional combining of issues and during Covid of 2020 some issues were unable to be published. The Amelia Island Genealogical Society is publishing The Nassau County Genealogist …
While creating the Nassau County Florida Obituaries data set the Amelia Island Genealogical Society volunteers also extracted a list of those who attended the funeral. It was hoped that genealogists could utilize this list of people to find individuals who may have been related to the decedent.
An index of obituaries and death notices from the Fernandina Beach News-Leader, January 2016 – Present plus all obituaries from the News-Leader and some obituaries from the Florida Times- Union from October 1992 through December 2007. Obituaries from Nassau County Record from January 2017 – Present are now included.
This data includes 127 land transactions for Nassau County Florida, and includes the name of the individual who purchased the land, the signature date, the document number and the Florida Land transaction reference number. The General Land Office Records are available for Florida online at the Bureau of Land Management General Land Office Records.
Available for download are articles, histories and stories about Amelia Island and Nassau County, Florida and the individuals and families who came to this area.
The Index of wills for Nassau County Florida from 1870 to 1908 contains 105 Wills which are summarized in this data set. They are also contained in their complete form on Family History Library microfilm, # 954987.
Nassau County Cemeteries provides an alphabetical list of known burial grounds in Nassau County including their AKA names. You can search through each cemetery from their individual page, or search all the listings at once.
The Wingate Cemetery, also known as the Old Campbell Homestead Cemetery, is North of Yulee Florida. This page provides the exact location and the results from all known surveys of the Wingate Cemetery.
Houston Cemetery, also known as the Houston Family Cemetery, Talbot Island Cemetery (GNIS) and Houston-Christopher Cemetery, is thought to be one of the oldest cemeteries in Florida. This page provides the exact location and the results from all known surveys of the Houston Cemetery.
Genealogy Articles
The Territorial Papers of Florida which have been transcribed and published by the National Archives hold a wealth of information about Florida during the territorial period from 1821 to 1845. Several entries relating to Nassau County are contained in this issue; more will be presented in future issues. Memorial to the …
We were treated to another entertaining presentation in March by Chip Kirkpatrick as he shared his passion of metal detecting and presented examples of historical finds he has discovered in the vicinity of Nassau County. The good news for those who were unable to attend the presentation is Chip has …
FAN Research is researching the people that cluster around your ancestor: friends, associates and neighbors.
Building up to the Spanish-American war the port of Fernandina was used as a base of operation for those sympathetic to the Cuban plight. Arms, ammunition, and recruits were shipped from her port to Cuba. Once War was declared Fort Clinch was prepared for up to 10,000 soldiers and the …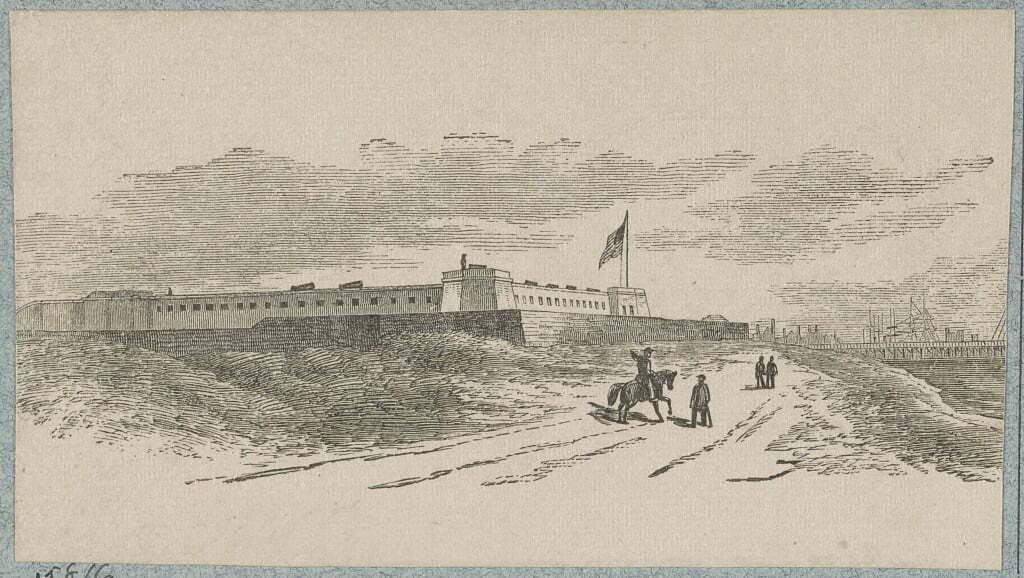 Fort Clinch was an immediate target of acquisition for the Union during the Civil War. The Union Navy arrived on 2 March 1862 firing cannon volleys at the last two retreating railroad ships of citizens from evacuated Fernandina. As in most wars, not all citizens evacuated, and those left behind …
In 1818, Fernandina comprised of about 40 wooden houses which sheltered a population of around 150 people. The town was incorporated the same year as Nassau county was created, 1824. It wasn't until the Railroad arrived on the Island from Cedar Keys did the growth of Fernandina and Nassau …
This material was written and compiled by "Workers of the Writers' Program of the Works Projects Administration in the State of Florida, Sponsored by the Florida State Planning Board, and copyrighted by the City Commission of Fernandina in 1940." There were no subsequent copyrights on this material and the material …