Welcome to AIGS!
For over a quarter of a century the Amelia Island Genealogical Society (AIGS) has been proud to serve both those seeking information about Amelia Island ancestors and those without local ties wishing to connect with other genealogists.
Members can start registering for 2022 Special interest Groups. To view what is available, please click on the button below.
Our Genealogical Library
Search Our Website
Latest Genealogy
Genealogy Data
Houston Cemetery, also known as the Houston Family Cemetery, Talbot Island Cemetery (GNIS) and Houston-Christopher Cemetery, is thought to be one of the oldest cemeteries in Florida. This page provides the exact location and the results from all known surveys of the Houston Cemetery.
Wilds Landing Cemetery, also known as the Wilds Family Cemetery is located on Florida side of the US-17 St. Mary's River bridge. This page provides the exact location and the results from all known surveys of the Wilds Landing Cemetery.
The Wilder Cemetery is in Nassauville FL. This page provides the exact location and the results from all known surveys of the Wilder Cemetery.
The Whispering Pine Cemetery occupies a two acre parcel in Yulee, Florida. This page provides the exact location and the results from all known surveys of the Whispering Pine Cemetery.
Elmore Wilds Cemetery, also known as the Wilder Wilds Cemetery, is in Evergreen Florida. Go north on US 17 to CR 108. Turn left, proceed to first paved road on left (Sandhill Dump), turn left. There is a fork in the road at about 600 ft, Take the right fork to the locked gate. About 8/10 mile from CR 108 are two cemeteries here, Jones-Jacobs Cemetery and Elmore Wilds Cemetery. The Jones-Jacobs Cemetery data is reported separately. Traveling on CR-108 there are road signs for Elmore Wilds Cemetery. Elmore Wilds Cemetery Location (Nassau County)Evergreen, FL USA GPS Location: 30.686861, -81.724694 This cemetery was inventoried in …
Verdie Cemetery is located in Bryceville, Florida. To reach it, take US301 south from Callahan for 9.3 miles. Turn left on Ford Road which is paved, but not marked. To 6/10 mile and turn left on Verdie Cemetery Road. The cemetery is 3/10 mile. It appears that you dead end into the cemetery, but the road actually veers to the right. A sign on the cemetery lists these numbers for further information: 879-3417 or 879-2175. The cemetery is enclosed in a chain link fence and is approximately 150 ft by 200 ft. This is a well maintained cemetery with oaks and …
Kirkland Cemetery, also known as the Tomlinson Cemetery, Johnson/Tomlinson Cemetery, and McClean Cemetery, has three old stones, all of which are broken and five newer stones. There were probably more burials than the extant stones indicate. Some of the "old-timers" in the area think there were members of the Rowe family buried here including Peter Rowe. To reach Tomlinson Cemetery, from intersection of State Highway-108 and River Road, west of Callahan, proceed north on CR-121/SR-108A for 1.3 miles. Bear left at the fork, staying on CR-121 for 2 miles. Turn left (west) onto Tomlinson Road (unpaved) for 0.5 miles. Take 1st …
The Thiede Cemetery is located in Oyster Bay, a gated community at the end of Barnwell Road. Access is restricted, and may be requested via Oyster Bay Harbor and Yacht Club at this website. The area is historically known as Heath's Point. The cemetery is enclosed by a stone wall about 2 feet high. There are steps into the burial plots on both sides of the wall. An ornate floral spray of roses is carved into the Caroline Thiede monument. The cemetery is set on NE/SW direction. From the intersection of SR-200/A1A and O'Neil/Scott Rd. proceed west on SR-200 for 0.4 miles, …
The Swearingen Cemetery is identified in the WPA Veterans' Graves Project of 1940/1941, but it has never been located or surveyed recently. Wayne Swearingen was born in Camden County GA. He moved to Nassau County Florida on Federal land he purchased between 1850 and 1857, some of which was granted for his services in the Florida Indian Wars (Seminole War). Following his death in 1874 he was buried near Kings Ferry in Nassau County Florida, probably on his Father's original plantation about 2 1/2 miles from Kings Ferry. Jim Miller has studied the four cemetery locations near Kings Ferry and concluded we may …
The Haggadon Cemetery is located in Crandall Florida on the Stuart Davis estate. Leaving the intersection of SR 200 (A1A) and Chester Road, proceed north on Chester Road 3/10 of a mile where you cross railroad tracks; go an additional 3 miles to Roses Bluff Road. Turn left on Roses Bluff and go 1.7 miles until pavement ends. Continue along the dirt road for 1.3 miles to a locked gate. Go down dirt (rough) track on the left alongside fence about 1/10 mile to cable locked across the dirt trail. Sign Posted Private Property. Go past locked cable ½ mile …
Genealogy Articles
In 1818, Fernandina comprised of about 40 wooden houses which sheltered a population of around 150 people. The town was incorporated the same year as Nassau county was created, 1824. It wasn't until the Railroad arrived on the Island from Cedar Keys did the growth of Fernandina and Nassau …
This material was written and compiled by "Workers of the Writers' Program of the Works Projects Administration in the State of Florida, Sponsored by the Florida State Planning Board, and copyrighted by the City Commission of Fernandina in 1940." There were no subsequent copyrights on this material and the material …
What peace was gained by the Patriots in 1816 was dashed upon the shores of Amelia Island when "General" Gregor McGregor sailed into Fernandina and the Spanish authority hastened retreat. This occupation by English forces was ended by the Yellow Fever epidemic of 1818. Finally, in 1821, without the exchange …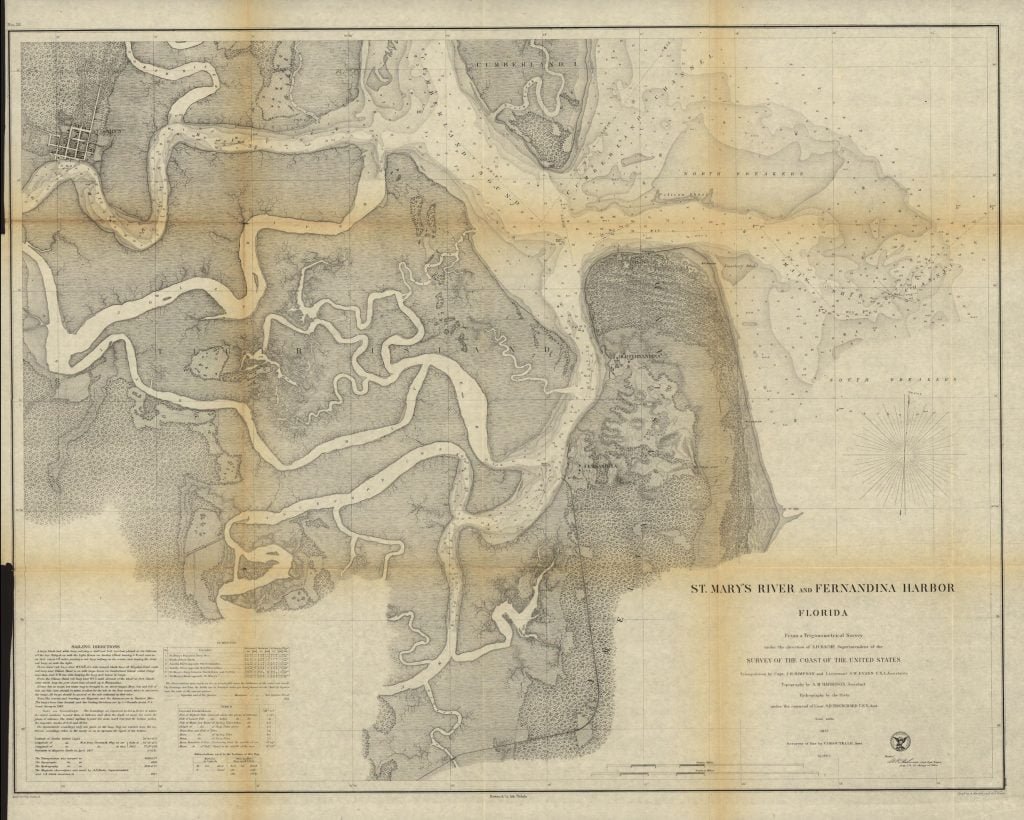 After the English government ceded control of Florida over to the Spanish, Amelia Island citizens found themselves under control of yet another government, with their titles to land in question. All that Spain required was a change of allegiance from England to Spain. Out of this question of land title, …
These obituaries and estate sale notices were transcribed from the Florida Mirror issues for 30 Nov 1878, 7 Dec 1878, 28 Dec 1878, 4 Jan 1879, 1 Feb 1879, and 21 Jan 1880. The names of those deceased: Judge John Friend, John C. Griswold, Dr. F. P. Wellford, Rev. Archibald …
A pedigree chart of Carlyle F. Alexander. Family names include: Alexander, Edwards, Latham, Medlin, Morgan, Pennington, Southwick, and Sugg.
The Amelia Island Genealogical Society has published the Nassau County Genealogist continuously since 1994. A print only publication, indexed in PERSI, The Nassau County Genealogist features stories and history of Nassau County, Florida, and its people. It also provides genealogical records which pertain to Nassau County, Florida. Jean Mann has served as the …