Welcome to AIGS!
For over a quarter of a century the Amelia Island Genealogical Society (AIGS) has been proud to serve both those seeking information about Amelia Island ancestors and those without local ties wishing to connect with other genealogists.
Members can start registering for 2022 Special interest Groups. To view what is available, please click on the button below.
Our Genealogical Library
Search Our Website
Latest Genealogy
Genealogy Data
St Theresa's Cemetery is in Hilliard. One mile from the center of Hilliard business district off intersection of CR 108 and Mills Street. This cemetery is adjacent to the Oakwood Cemetery in Hilliard Florida. The cemetery is small and no attempt was made to number the graves. St Theresa's Cemetery Location (Nassau County)37349 Ruby DriveHilliard, FL 32046 USA GPS Location: 30.700424, -81.918472 Inventory made by Charlene and Lavada Wilkes in May 1993. Verified by Kenneth Sturges, Nancy Sturges, Mary Nelson and Wanda Simpson in March 1998, with another independent survey by Lori Bragg.
Springhill Cemetery is in Nassauville Florida. To reach it, from Highway A1A, at the O'Neal traffic light, turn (south) onto SR 107(Old Nassauville Road). Go 3.3 miles and Springhill Baptist Church and cemetery are on the right. The cemetery is to the left of the church, you can drive around the back to reach it. Springhill Cemetery Location (Nassau County)941017 Old Nassauville RoadFernandina Beach, FL 32034 USA GPS Location: 30.572601, -81.521604 This cemetery was inventoried in May 1993 by Jay Jenkins, and verified in February 1998 by Ken and Nancy Sturges. Florida Master Site File ID NA00995 established unknown graves 100.
Snowball Cemetery is in Yulee Florida. To reach it, from SR200, take Chester Road 4/10 mile to the intersection with Page's Dairy Road. Turn left (west) on Page's Dairy Road and continue 2.7 miles. Cemetery is on the left. At the time this inventory was made, only two tombstones continue to exist. Mr. Cliff Flood of Yulee told Mrs. McCabe there were Snowballs and Evatts buried in this cemetery. Snowball Cemetery Location (Nassau County)1851 Pages Dairy RoadYulee, FL 32097 USA GPS Location: 30.639441, -81.586941 This Inventory made in February 1994 by Shirley Johnson McCabe, with pictures and additional information supplied by Terrill Thompson. Additional information …
The original location of this cemetery was on the left of SR 200 1.4 miles east of the junction of US 1/US 301 and State Road 200. In 1996, the Florida Department of Transportation decided to widen the road between Callahan and Yulee. The Department contacted the descendants of the Slawters and arranged to remove the remains to the Jones Cemetery on River Road west of Callahan. This was accomplished on May 28, 1996, and these graves appear in the Jones – Callahan survey with photographs. The cemetery was surveyed on 2 April 1993 by Connell Ward Jenkins and Shirley Johnson McCabe. …
To reach the Russell Family Cemetery, also known as the Russell Cemetery, from the intersection of SR-200/A1A & US-17 go north 2.61-miles to a gravel road on the left. Turn west onto the gravel road, cross the railroad tracks and take the right fork, timber road 56, to the locked Rayonier Corporation gate. Proceed along timber road RD-56 for 1.07-miles, crossing under the power line at 0.7-miles. You will come to an intersection with two roads on the left, one on the right. Turn right (north) on the dirt road, proceeding to a large oak tree; follow the tracks to …
River Road Baptist Church Cemetery is in Hilliard. Go south from the center of Hilliard on CR 108 / CR 121 about 11.75 miles. The church shown in the attached photograph will be visible. Immediately behind the River Road Baptist Church across from the fire department is the cemetery. River Road Baptist Church Cemetery Location (Nassau County)21067 County Road 121Hilliard, FL 32046 USA GPS Location: 30.561013, -81.990801 This inventory was done by Kenneth Sturges in March 1998. River Road Baptist Church Cemetery Photographs River Road Baptist ChurchRiver Road Baptist Church Cemetery Pictures are courtesy of Jean Mizell.
The cemetery is located in the Rayonier Management Area – Wildwood Road, Nassau County, Florida. No public access. Contact Smurfit-Stone or Rayonier Corporation for information regarding access. Reynolds Cemetery Location (Nassau County)Wildwood RoadYulee, FL 32097 USA GPS Location 30.622805, -81.666000 This GPS location and map only take you to the intersection of Muddy Trail with Wildwood Road, not to the Cemetery. This is survey was made in May 1993 by Ann Duff, Shirley McCabe, and Joan Johnson. Photos courtesy Marie Wingate, taken in 2013. Marie reports that family members who had visited the site before noted unmarked graves, via visible depressions.
The Pringle Cemetery, also known as the Kinard Cemetery, is located near Bryceville Florida. From the intersection of US 90 and CR 121 in Baldwin, turn north onto CR 121 and go ten miles to Kinard Road. Turn onto this dirt road and go one mile to dead end with locked gate on the right. There is no sign. A woven wire fence encloses a chain link fence surrounding this cemetery. Pringle Cemetery Location (Nassau County)Kinard RoadBryceville, FL 32009 USA GPS Location: 30.445900, -82.026627 This cemetery was surveyed in August 1996 by Grady Hagan, J. W. Conner and Ethel Holton and verified in Spring …
This cemetery is in Boulogne, Florida. To reach it, take US 301 north from Callahan and through Hilliard. Just before the St. Marys River and crossing into Georgia, turn right on Lake Hampton Road. Go .4 mile to Pigeon Creek Road. Turn right on this dirt road and follow to the church on the right and the cemetery on the left. Pigeon Creek Primitive Baptist Church was Florida's only known Protestant church when the territory became a part of the United States. The church was organized on 7 January 1821 by Isom Peacock and Fleming Bates. Other founding church members were …
The Owens Cemetery is in Evergreen Florida, located on the private property of L. L. Owens approximately ½ mile from the southwestern terminus of Owens Cutoff Road at Nassau County Highway 108. When driving northeast, CR 108 takes a right turn, continue straight ahead, across the cattle guard, and follow the ruts to the Owens farmhouse. The cemetery is located on a small rise beneath a canopy of large oak trees with many old azaleas and camellias. A chain link fence surrounds the sixty foot square cemetery. Owens Cemetery Location (Nassau County)Evergreen, FL USA The Owens Cemetery was inventoried by Kenneth Sturges in …
Genealogy Articles
When Florida became a territory of the United States in 1821, the Pigeon Creek Baptist Church was the only known Protestant Church within it's territory. This article provides a brief history of the founding of the church by Nassau County residents, It's original organizational document and a list of those …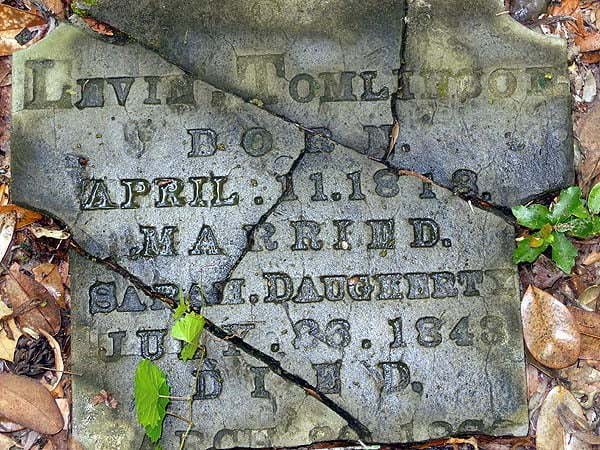 Levin Tomlinson was born on 11 April 1813, the son of William Tomlinson (10 Dec 1781 SC – 10 Dec 1865 Clinch Co., GA) and Nancy Register (1782-1873). Levin grew up living in Appling and Irwin counties Georgia. He married Sarah Daugherty on 26 July 1843, who at the time …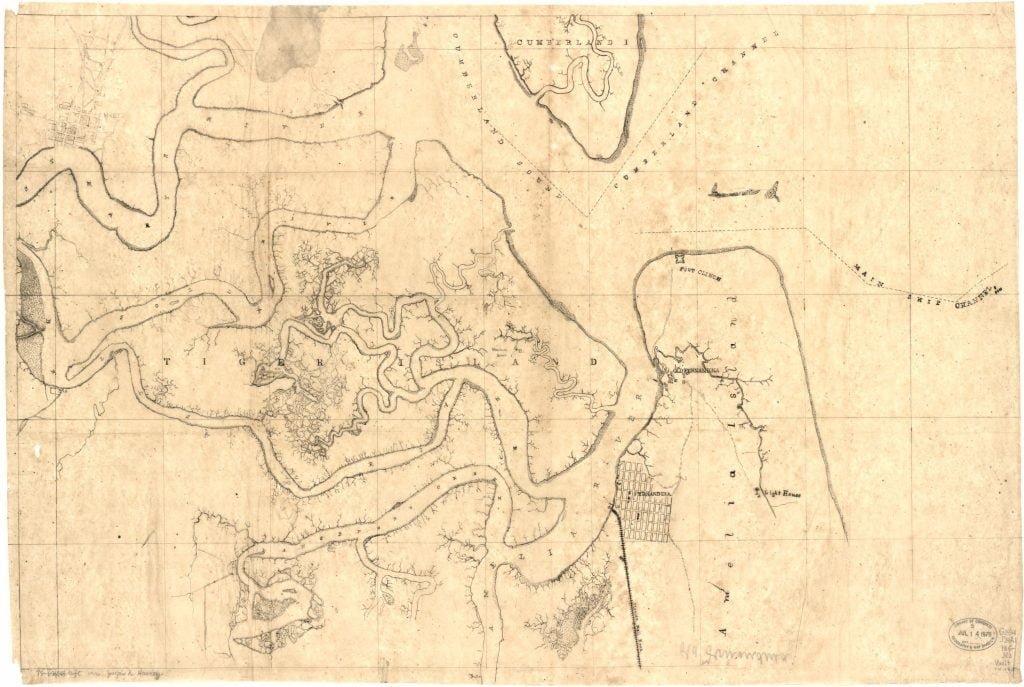 When in 1763 Florida was ceded by Spain to England, a definite boundary at the St. Mary's River was set for the province. Thus Fernandina again became the border town of Florida, a situation which was to have further significance thirteen years later when the American Revolution broke out.
I have been working on a post for the AIGS website featuring the family of Levin Tomlinson. The foundation for the post is an article published in The Nassau County Genealogist Vol. XX #3, pp.41-44, called "Tomlinson Family." My plan is to expand that synopsis about the family, to extend …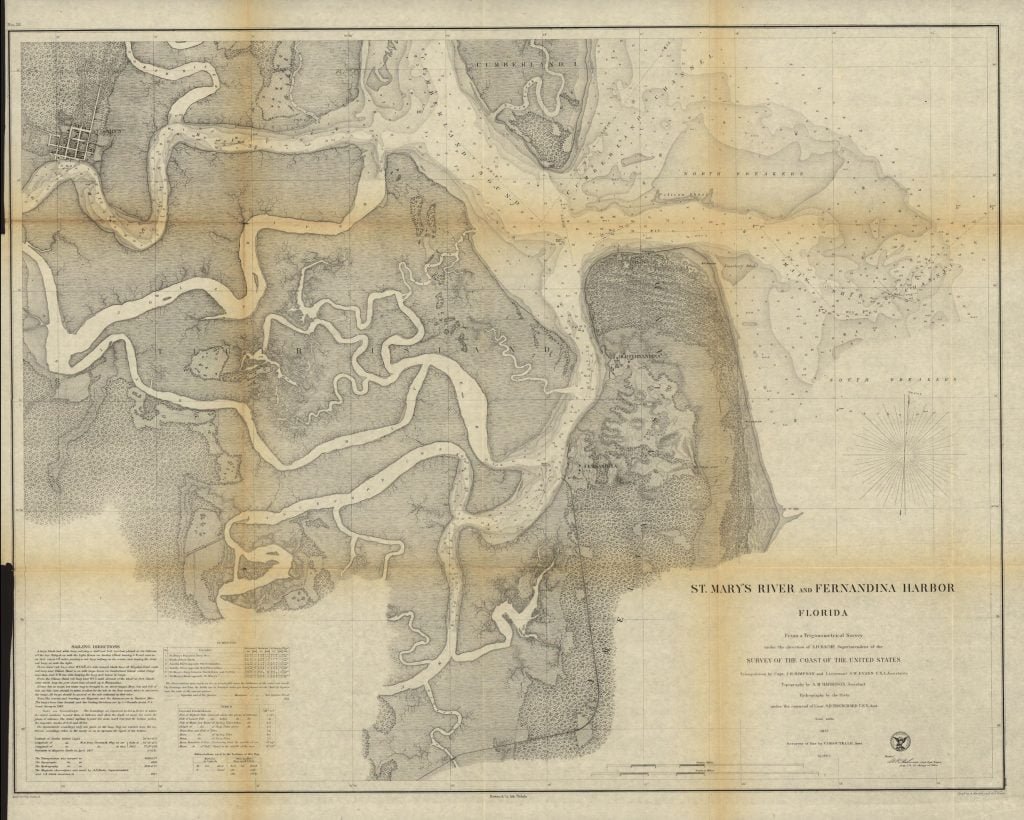 This first chapter in the History of Nassau County Florida takes the reader from the discovery of Fernandina by Jean Ribault, the intrepid French Admiral and explorer, to 1748 and the treaty between Spain and England which created a no-man's-land of Amelia Island.
We had a packed house for last month's general meeting and it was good to see not only our regular membership, but many returning guests as well. I appreciate Medardo Monzon's presentation on The Genealogy of Genes. I found it both useful and instructive! We often take for granted the …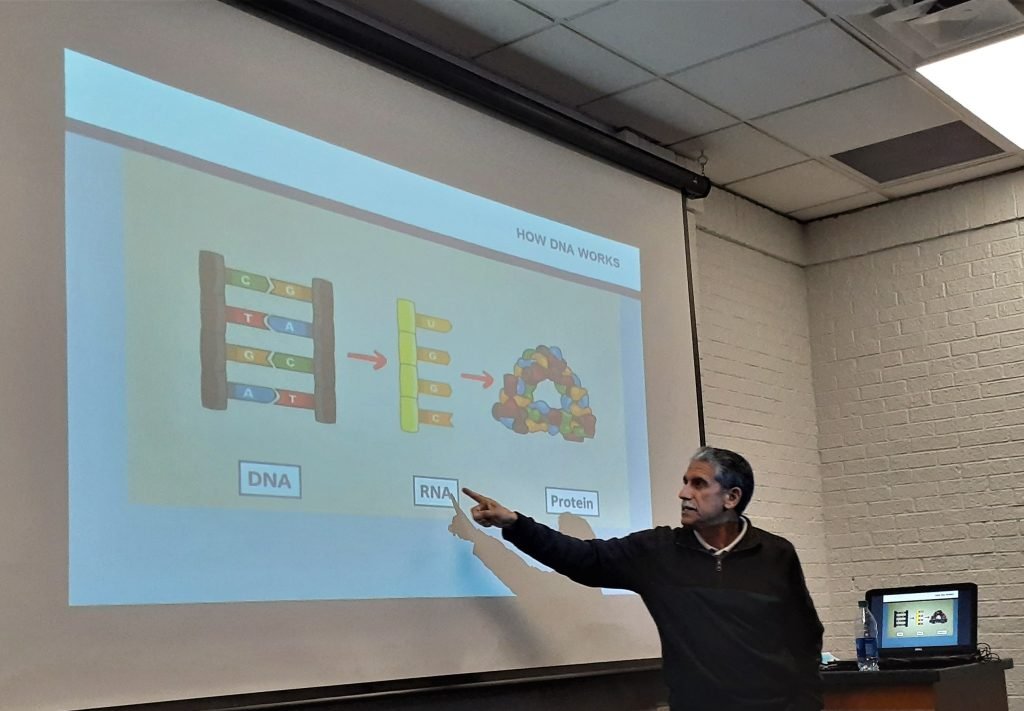 We almost had a full house for our monthly meeting on Tuesday, February 15, which was attended by a total of 52 people, including 20 non-members! The audience listened to Medardo Monzon's presentation "The Genealogy of Genes", a fascinating story about the discovery of DNA.  Using simple props and historic …