After resting up from preparing and teaching two of the Beginning Genealogy classes this week, I returned to my trusty desktop (since my older laptop gave me so much drama Saturday morning) and began anew with the Nassau County Death records 1904-1939. I proceeded along nicely until I was interrupted by Nassau County death certificate #1914. Here we have a great example of a poorly written record with significant deficiencies in the information. The rabbit hole I proceeded to jump into led me to a Nassau County family with at least 4 widely different spellings of their last name in the records. They were traceable, but how to find them wasn't going to prove simple. Let's step through the process I used to identify the individual in the death record and her family makeup. The key to this, was using wildcard searches. Don't worry, I explain to you what those are. Are you ready to go down this rabbit hole with me?
The Offending Record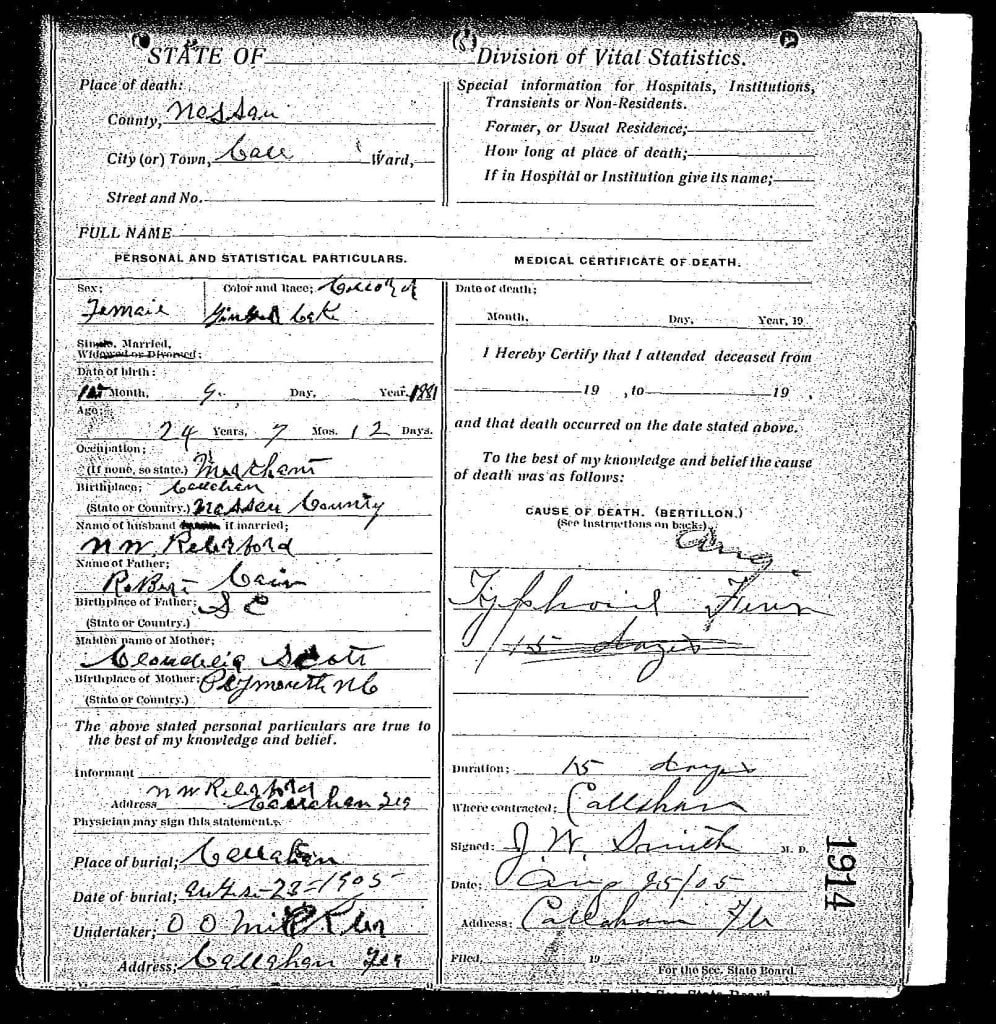 Death certificate #1914, the FamilySearch index claims, belongs to a _____ Cain. As I read the certificate to index it in our own database I found that was totally incorrect. At the time of her death, it belonged to a _____ Rebeford, her married name; her maiden name had been Cain, and her actual name had been left blank on the certificate, but they included her husband N. W. Rebeford. The surname for this N. W. is very difficult to read. FamilySearch has it indexed as Rebeford, and I felt it could be Rebeford. This is based solely on the evidence found within the certificate. I then went searching for more evidence about who this deceased individual was, though, so that our own records could better reflect her true identity.
Down the Rabbit Hole!
The date of burial for this person was 23 Aug 1905 (the date of death was left blank). However we can determine that since they provided us her birth date (9 Jan 1881) and her complete age at death (24 yrs, 7 mos, 12 days) which converts the death date to Monday, 21 Aug 1905. This online website works to convert dates, also, most genealogy software has the feature built in. Only five years out of the 1900 census I immediately turned to it to search for her and N. W. Rebeford. I didn't have much to go on, did I? But I presumed they were in Nassau County, and set the search to be "Match Place Exactly" and used Rebeford in the last name search using the 1900 census at FamilySearch.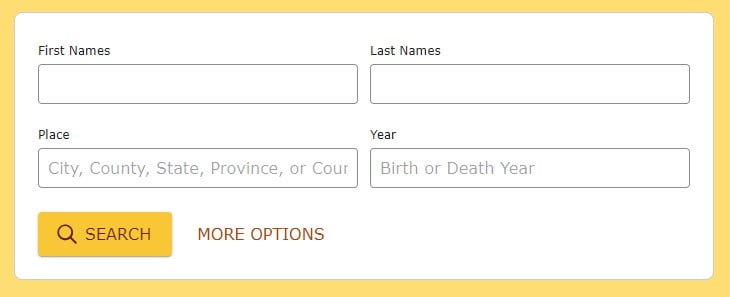 Rebeford failed to produce a match and I got the ubiquitous "No results found" message returned. The message tells me I should try my search with less information, but I really didn't add that much in the first place. So the message doesn't help. What then should I do?
Note!
My experience recently is that the message above can sometimes be incorrectly applied and that there are actual matches. Whenever I get this message, I refresh the screen 2-3 more times and frequently the results will eventually show up.
When dealing with inconsistent naming practices and searching through databases at both Ancestry and FamilySearch you can utilize different wildcards and substitute them for letter(s) in the word. This also works on Google and other large searches including our own AIGS main search. It does not work, unfortunately, when searching individual databases found in our online records.
What are Wildcards?
Wild cards are symbols used in place of unknown letters in a word. They can be used in searches when you don't know an exact spelling, or in cases where the spelling of a name appears in a variety of ways within records.
2 Wild card symbols
Most large genealogy search websites uses the asterisk (*) and the question mark (?) as wild cards.
An asterisk (*) represents 0 to 5 characters. If you wanted to search for different spellings of the given name Alex (like Alexander and Alexandre), you could do a wild card search that would find each different ending: Alex*.
A question mark (?) represents 1 character. If you didn't know whether a surname were spelled Anderson or Andersen, you could do a search for the name using a wild card where the unknown letter goes: Anders?n.
3 Wild card rules
All searches containing wild cards must contain at least 3 non-wild card letters. For example, *ull would work, but *ll would not.
The first and last character in a search can't both be wild cards, so no *bull*. Searching *bull and Bull* would work, but *bull* would not.
In this case I changed the last name in the search to Re*ford.
Using Wild Cards in Genealogy Searches
Back to our problem at hand. Rebeford did not produce a match. But the b and second e in Rebeford was not very clear on the Death Certificate, so I substituted an * for those two letters and used Re*ford.
If you try this out on the 1900 census at FamilySearch you will see it works and it will produce the following 3 matches. Remember, you may have to refresh the screen multiple times.
That Ned Releford, 34, looks promising as our decedent's husband which we currently have as "N. W. Rebeford" from the death certificate!
Based on this find I could start building out a likely person, Lethia, to be the individual who is unnamed in the death certificate. If you look at the clues provided in the 1900 census image above you can see that Ledia is 19 years old, born in Jan 1881; in 1900 she had been married for 1 year, or probably 1899; and she had not yet had any children. The age and birth information found in the 1900 census is a good match for our _____ Rebeford who was 24 years old when she died and had been born 9 Jan 1881 [date of birth placed improperly on death certificate]. To be sure this is her, though, I then went and looked at the 1910 census at FamilySearch to find Ned again if he was still alive. Can you find him using the wild card searches above? Hint, Ned's name is neither Rebeford or Releford in the 1910 census and he is alive and living in Nassau County. I wouldn't send you on a wild goose chase when we're searching rabbits!
What wildcard search did you have to use to find him? I used R*ford in my search and it produced the following match:
The 1910 census listing for Ned W. Rutherford confirms the theory that Lethia is the decedent on the 1905 death certificate. We find in 1910 that Ned is now married to Ida E. The census image cutout below shows that Ned, 43, and Ida had been married for only 3 years. That this was also Ned's 2nd marriage and Ida's 1st. Ida had had 1 child and that child was still alive. A look at the children shows that the youngest, William A is a child of Ned and Ida, but that the two elder, Lucrecia and Mary E. are children of Ned and a previous marriage, likely Lethia. A reasonable person could conclude at this point that Ned Rebeford, Ned Releford, and Ned Rutherford are one and the same individuals.
There is still one piece of evidence I would like to find before making a certain determination though. Look at the death certificate again. What piece of evidence on that record would help confirm the identity of Lethia? Do you see it? The record indicates that the maiden name of Lethia is Cain. Is there a marriage record available which shows a Ned R*ford married a Lethia Cain? Nassau County Florida marriage records from 1867-1953 are available on FamilySearch. You could visit our county courthouse and view these records in person, or you could click on the link below and view them at home in your comfy pajamas.
You will notice on the page results that there are 2 databases linked under Notes. Both would have you believe that the results of those marriage records are included in both databases, but a diligent search by me using wild cards produced no likely match for the marriage between Lethia and Ned.

Not knowing if this was once again a name issue I scrolled down the page to the Film/Digital Notes. As you can see by the highlighted row below there is no search available for the General index to marriages, v. 1, 1867-1972. If there were, there would be a spy glass icon beside the camera icon. The camera icon means that there are images available to be viewed, and the fact there is no key above the camera icon, means I can view these records at home. To view them, click on the camera icon.
There are 364 images on the microfilm in a reasonably alphabetical order. Each page on the microfilm is divided into 2 sections, the left side indexed by male, the right side, indexed by female. I found Cain listed on image 50 and Releford on image 266, Reterford on 267, and Rutherford on 273. I wanted to search by Ned so that I could attempt to confer both marriages. Indeed, image 267 shows a Ned Reterford married Leathoryer [I believe this is actually Leathayer on the marriage record below] Cain in 1899 and the marriage record can be found in vol. 1, p. 393. Image 266 shows a N. W. Releford married Ida Sams in 1907 and the marriage record can be found in vol. 2, p. 158. That's strange, because the search results didn't have either of these marriages, even though the microfilm for them in the list above, indicates they are searchable. The good thing is we can still open the microfilm and view it. I found both marriage records right where they should be. The important one, the one between Ned Reterford and Leathayer Cain in 1899 is as follows:
It is unfortunate that Nassau County marriage records do not show the parents of the spouses. This is an important linkage between generations that cannot be determined with a marriage record in Nassau County. However, Lethia's death record indicates her parents were Robert Cain and Claudelia Scott. A search of the same marriage index used to find Ned and Lethia/Leathayer finds the marriage record of Lethia's parents on image 50: Robert Cain and Claudelia Scott married in 1880 and the marriage license is found in vol. C, page 210 and indicates they married on 22 April 1880.
Summary of Results
Lethia Rutherford is buried in the Callahan Community Cemetery, an African American cemetery located at the corner of Stratton Road and SR 200 in Callahan. If you took a walk through the cemetery you would find a marker in the ground inscribed with the following:
Mother
Lethia Rutherford
Jan. 1881 – Aug. 1905
Baby Sons
Ned & Jed
The individual deceased on Death certificate #1914 as found in our own Nassau County Death records 1904-1939 has been identified as Leathayer "Lethia" (Cain) Rutherford, the daughter of Robert Cain and Claudelia Scott, b. Aug 1881, and married in 1893 to Ned W. Rutherford, all of Nassau County, Florida.
Important Takeaways
I hope this detailed explanation of my search for Lethia Rutherford's identity helped you understand some of the techniques I use to conduct my genealogy research using FamilySearch.