The Barbour Collection of Connecticut Vital Records is a well-known resource among Connecticut researchers, comparable to the "tan books" of Massachusetts town vital records. It offers a transcription and index of Connecticut vital records (birth, marriage, and death) before 1870 on a town-by-town basis. Officially known as the Lucius Barnes Barbour Collection, it has been housed in the Connecticut State Library since its creation.
The Barbour Collection of Connecticut Town Vital Records was released as a 55 volume series of bound books by the Genealogical Company at the beginning of the 21st century. The Amelia Island Genealogical Society has recently obtained the complete set of these volumes. Visitors to our Genealogical Collection at the Fernandina Branch Library can peruse these books, while AIGS members are allowed to check them out upon presenting their Nassau County library card and their 2023 AIGS membership card. Membership has its benefits!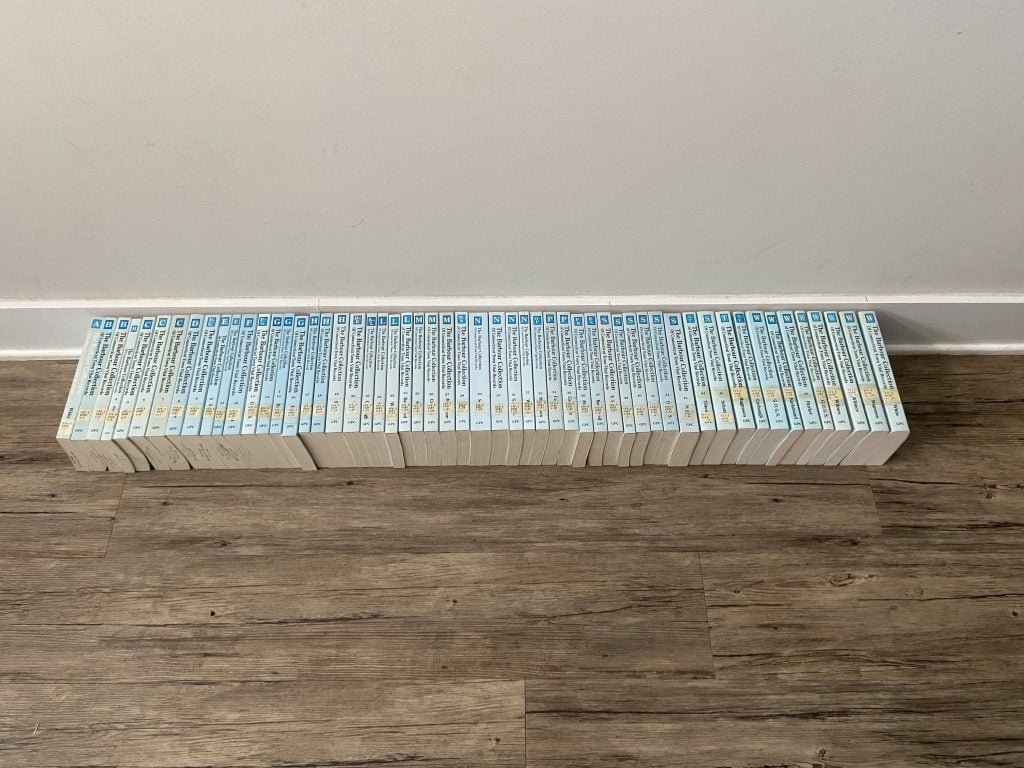 What is the Barbour Collection of Connecticut Vital Records?
The original 123 volumes (found on the 55 volume set we own) are arranged alphabetically by town name, and within each town, records are sorted alphabetically by surname. Marriage records are organized so that all vital records for a person are grouped together, allowing researchers to find birth and death records within the marriage records database as well.
The Barbour Collection consists of a statewide surname index and a bound volume for each town, referencing original records usually available on microfilm. The Latter-day Saints (LDS) have digitized these films. For information about finding these records online, consult the relevant guide. To see the sources Barbour used, refer to Connecticut Town Guides, which lists sources by individual town.
As a transcription, the Barbour Collection does not contain additional information from the original record. However, many lineage societies accept these transcripts.
Where Did These Records Come From?
Lucius B. Barbour, State Examiner of Public Records from 1911-1934, initiated the project and hired several individuals to transcribe vital records for most Connecticut towns. The most notable was James N. Arnold, who had previously published Rhode Island vital records. Barbour presented the "Arnold" transcripts to the Connecticut State Library, where they were typed, cut into slips, and alphabetized. These slips were then bound into separate volumes for each town, creating two parts of the Barbour Collection: the slip index and bound volumes for individual towns.
The statewide slip index/abstract is alphabetically and chronologically arranged, with each slip containing a complete abstract of an event (birth, marriage, or death). Parentage, residence, or relationship information from the original entry is included in the Barbour abstract, along with a citation to the original source. Researchers can consult the original records on microfilm at the Connecticut State Library or through LDS Family History Centers.
Yellow slips in the file contain similar entries from private sources and institutions. The bound Barbour volumes contain the same information and references as the slip index, with a few key distinctions: original surname spellings are not preserved, there is potential for additional transcription errors, and each volume includes an introduction explaining the sources and abbreviations used.
Bound volumes were not prepared for certain towns with previously published compilations, but these towns are included in the statewide slip index. In some cases, Barbour slips were prepared from published vital records, and the page references are to the published book, not the original manuscript volume. Both published vital records volumes and Barbour Collection bound volumes are available for some towns.
What Records are Found in These Volumes?
Volume 1
Andover 1848-1879
Ashford 1710-1851
Avon 1830-1851
Volume 2
Barkhamstead 1779-1854
Berlin 1785-1850
Bethany 1832-1853
Bethlehem 1787-1851
Bloomfield 1835-1853
Bozrah 1786-1850
Volume 3
Branford 1644-1850
Bridgeport 1821-1854
Volume 4
Bristol 1785-1854
Brookfield 1788-1852
Brooklyn 1786-1850
Burlington 1806-1852
Volume 5
Canaan 1739-1852
Canterbury 1703-1850
Volume 6
Canton 1806-1853
Chaplin 1822-1851
Chatham 1767-1854
Cheshire 1780-1840
Chester 1836-1852
Clinton 1838-1854
Diary of Aaron G. Hurd
Clinton 1809-1878
Volume 7
Colchester 1699-1850
Colebrook 1779-1810
Columbia 1804-1852
Cornwall 1740-1854
Volume 8
Danbury 1685-1847
Darien 1820-1851
Derby 1655-1852
Volume 9
East Hartford 1783-1853
East Haven 1700-1852
East Lyme 1839-1853.
Volume 10
Durham 1708-1852
Eastford 1847-1851
East Haddam 1743-1857
Volume 11
East Windsor 1768-1860;
Ellington vital records 1786-1850
Ellington marriage records 1820-1853
Volume 12
Fairfield 1639-1850
Farmington 1645-1850
Volume 13
Franklin 1786-1850
Glastonbury 1690-1854
Volume 14
Goshen 1739-1854
Granby 1786-1850
Greenwich 1640-184
Volume 15
Griswold 1815-1848
Groton 1704-1853
Volume 16
Guilford 1639-1850
Volume 17
Haddam 1668-1852
Hamden 1786-1854
Hampton 1786-1851
Volume 18
Hartland 1761-1848
Harwinton 1737-1854
Hebron 1708-1854
Volume 19
Hartford 1635-1855
Standifer Moore.
Volume 20
Huntington 1789-1850
Kent 1739-1852
Killingly 1708-1850
Volume 21
Killingworth 1667-1850
Ledyard 1836-1855
Lisbon 1786-1850
Volume 22
Lebanon 1700-1854
Volume 23
Litchfield 1719-1854
Volume 24
Lyme 1667-1852
Volume 25
Madison 1826-1850
Manchester 1823-1853
Marlborough 1803-1852
Meriden 1806-1853
Middlebury 1807-1850
Monroe 1823-1854
Montville 1786-1850
Naugatuck 1844-1853
Volume 26
Middletown A-J 1651-1854
Volume 27
Middletown K-Z 1651-1854
Volume 28
Milford 1640-1850
New Canaan 1801-1854
New Hartford 1740-1854
Volume 29
New London 1646-1854
Volume 30
New Milford 1712-1860
Norfolk 1758-1850
North Stonington 1807-1852
Volume 31
Newton 1711-1852
North Branford 1831-1854
North Haven 1786-1854
Volume 32
Norwalk 1651-1850
Norwich 1847-1851
Volume 33
Orange 1822-1850
Oxford 1798-1850
Plainfield 1699-1852
Volume 34
Plymouth 1795-1850
Pomfret 1705-1850
Volume 35
Preston 1687-1850
Volume 36
Portland 1841-1850
Prospect 1827-1853
Redding 1767-1852
Ridgefield 1709-1850
Volume 37
Rocky Hill 1765-1854
Roxbury 1796-1835
Salem 1836-1852
Salisbury 1741-1846
Volume 38
Saybrook 1635-1850
Sharon 1739-1865
Volume 39
Sherman 1802-1850
Simsbury 1670-1855.
Volume 40
Somers 1734-1850
Southbury 1787-1830
Southington 1779-1857
South Windsor 1845-1851
Volume 41
Sterling 1794-1850
Stratford 1639-1840
Volume 42
Stamford 1641-1852
Volume 43
Stonington 1658-1854
Volume 44
Stafford 1719-1850
Tolland 1715-1850
Volume 45
Suffield 1674-1850
Volume 46
Thompson 1785-1850
Volume 47
Torrington 1740-1850
Union 1734-1850
Voluntown 1708-1850
Volume 48
Wallingford 1670-1850
Volume 49
Warren 1786-1850
Washington 1779-1854
Waterford 1801-1851
Watertown 1780-1850
Westbrook 1840-1851
Volume 50
Waterbury 1686-1853
Volume 51
Weston 1787-1850
Westport 1835-1850
Willington 1727-1851
Volume 52
Wethersfield 1634-1868
Volume 53
Wilton 1802-1850
Winchester 1771-1858
Wolcott 1796-1854
Woodbridge 1784-1832
Woodbury 1674-1850
Woodstock 1848-1866
Volume 54
Windham 1692-1850
Volume 55
Windsor 1637-1850