Welcome to AIGS!
For over a quarter of a century the Amelia Island Genealogical Society (AIGS) has been proud to serve both those seeking information about Amelia Island ancestors and those without local ties wishing to connect with other genealogists.
Members can start registering for 2022 Special interest Groups. To view what is available, please click on the button below.
Our Genealogical Library
Search Our Website
Latest Genealogy
Genealogy Data
The CSA Muster Records on the website were extracted by Lori Bragg primarily from Ron Thompson's website of Civil War Military Units in Florida, and contain the known musters from nine Florida CSA Companies. The CSA records are known to be inaccurate, and our records probably contain individuals from other counties, and have some people missing. However, they represent a detailed effort to capture Nassau County members of the CSA who could be your ancestors. Obviously, this work should be verified by other sources.Muster Records on our site: 1st Florida Reserves, Companies B and E2nd Florida Cavalry, Company D2nd Florida Cavalry, …
The marriage data for Nassau County from 14 August 1867 to 9 Jan 1895 have been extracted from the Nassau County Marriage Books and are included in this data group. These records provide the date of marriage along with the name of bride and groom.
The first Confederate pensions in Florida were authorized in 1885 and granted to veterans the sum of $5.00 per month. The next three decades saw a new Confederate pension bill introduced at nearly every session of the Legislature. Residency requirements were added and adjusted, militia members and widows were declared eligible, various financial qualifications were added and changed, and the amount and method of distribution were changed many times. The data you see here are an extract of the files for both individual pensions and widows pensions. The widow's application is filed with that of her husband. The complete pension record …
In March 1862, a Union fleet of some 26 vessels under the command of Navy Flag Officer Samuel F. DuPont arrived at Fernandina from its base at Port Royal, South Carolina. Confederate troops had been withdrawn in the face of this overwhelming Union force and both Fernandina and nearby Fort Clinch were captured without violence. Most of the community's residents also fled the island for Confederate held areas in the interior. For the remainder of the war, Fernandina was a center of operations for the Union Navy's South Atlantic Blockading Squadron, a rest center for Union troops, and a base …
A State Census is an extremely valuable tool for research covering the period between 1880 and 1900, since the Federal Census for 1890 was almost completely destroyed. Florida conducted statewide censuses in both 1885 and 1895, and a transcription of the 1895 Nassau County census data is posted here. Only the records for Nassau County from 1895 are available at the Florida State Archives. They were also published by the Jacksonville Genealogical Society. Citation: 1895 state census, Nassau County, Florida; Jacksonville Genealogical Society (Florida); Books/Monographs; Jacksonville, Florida; Jacksonville Genealogical Society, ©1976. While data from almost all of the Florida counties exist from …
These are the earliest existing records at Oxley Funeral Home, Fernandina Beach, Florida. The ledger contains services rendered, including ambulance service, and date of service. Only funeral records are entered here. Copies of original pages can be obtained from Oxley-Heard Funeral Directors. Click on the "More Details" to see further information about the listing if available. Information may include: Book #, Page #, Name of deceased, death date, death location, birth date, birth location, father, mother, occupation, internment location. Database created by Jean Dixon Mann on 15 Oct 2005
The Nassau County Public Library has in its collection 125 microfilm rolls containing the archived Nassau County Florida Newspapers for the twelve newspapers which existed in the county from 1880 to 2002. While the microfilms files are complete from 1949 through 2002 (four newspapers sequentially), the records from 1880 to 1948 (eight newspapers) are only partially complete. A complete list of the newspapers, and the dates of the microfilmed material can be seen at Newspaperlist.pdf . The Amelia Island Genealogical Society (AIGS) is in the process of abstracting these records, and we now have online the following records: Complete Years, 1879, …
The 1850 Federal Census for Nassau County, Florida was taken by Charles W. Pelot between October 28th and November 29th, 1850 and reflected the population on June 1, 1850, and includes 1087 individuals in Nassau County Florida. The census pages for Nassau County begins at 341 and go through 367. The Census is searchable by both first and last name, but also typically contains: Age, Sex, Occupation, Birthplace, Birth Year, and Birthplace (generally the state where the individual was born) and a few notes.
The Amelia Island Genealogical Society has collected 47,000 genealogical records for individuals who have lived in Nassau County Florida.
Genealogy Articles
The Swearingen Cemetery is identified in the WPA Veterans' Graves Project of 1940/1941, but it has never been located or surveyed recently. Wayne Swearingen was born in Camden County GA. He moved to Nassau County Florida on Federal land he purchased between 1850 and 1857, some of which was granted for …
The Haggadon Cemetery is located in Crandall Florida on the Stuart Davis estate. Leaving the intersection of SR 200 (A1A) and Chester Road, proceed north on Chester Road 3/10 of a mile where you cross railroad tracks; go an additional 3 miles to Roses Bluff Road. Turn left on Roses …
St Theresa's Cemetery is in Hilliard. One mile from the center of Hilliard business district off intersection of CR 108 and Mills Street. This cemetery is adjacent to the Oakwood Cemetery in Hilliard Florida. The cemetery is small and no attempt was made to number the graves. St Theresa's Cemetery Location (Nassau County)37349 …
Springhill Cemetery is in Nassauville Florida. To reach it, from Highway A1A, at the O'Neal traffic light, turn (south) onto SR 107(Old Nassauville Road). Go 3.3 miles and Springhill Baptist Church and cemetery are on the right. The cemetery is to the left of the church, you can drive around …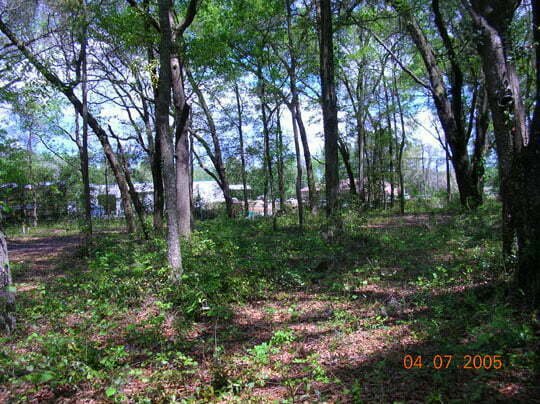 Snowball Cemetery is in Yulee Florida. To reach it, from SR200, take Chester Road 4/10 mile to the intersection with Page's Dairy Road. Turn left (west) on Page's Dairy Road and continue 2.7 miles. Cemetery is on the left. At the time this inventory was made, only two tombstones continue …
The original location of this cemetery was on the left of SR 200 1.4 miles east of the junction of US 1/US 301 and State Road 200. In 1996, the Florida Department of Transportation decided to widen the road between Callahan and Yulee. The Department contacted the descendants of the …